Peer Mentors

Peer Mentors are available to help get you started with planning to study abroad. As students who studied abroad recently, they understand the process and are ready to get you started. Talk with a Peer Mentor with a drop-in appointment at Study Abroad Services (MU116 by the coffee shop) or email them at
ndsu.studyabroad@ndsu.edu
!
Get Started Session
Join us for a Get Started Session on Teams! Use the "Sign Up Now" button below for instructions on how to join a session and to access our Get Started Guide. Sessions start the first week of the fall semester.
| | | | | |
| --- | --- | --- | --- | --- |
| Monday | Tuesday | Wednesday | Thursday | Friday |
| 11-11:50am | 3-3:50pm | 11-11:50am | 3-3:50pm | 11-11:50am |

Talk with a Peer Mentor
Use the yellow chat button in the lower right corner of the page to chat with Zoey, our Senior Peer Mentor! Her live availability is listed below (if you message her outside of those hours, she'll respond by email as soon as she is in).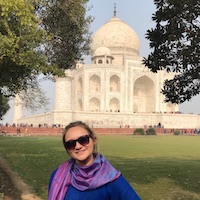 Zoey
I studied abroad in India through a faculty led trip. It was amazing to experience a culture so different from what we experienced here in the Midwest! I also was able to study abroad in high school to England, Ireland, Wales and France. I always say to jump on any opportunity to travel; you won't regret it!
MWF
9 AM - 2 PM
TTh
2:30 - 5 PM
8AM
9AM
10AM
11AM
Get Started Session
Noon
1PM
2PM
3PM
Get Started Session
4PM