Choosing a Program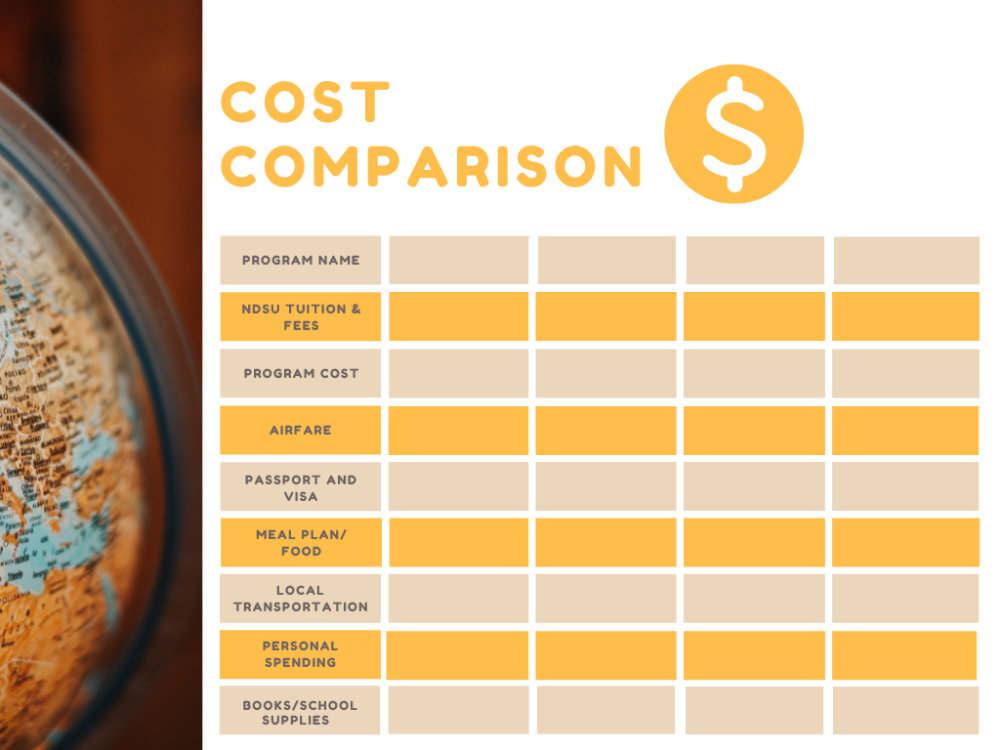 Selecting a study abroad program can be one of the most challenging yet exciting parts of the planning process. Get started by talking with a
Peer Mentor
who will review our "Get Started Guide" as well as the comparison tools on the right. We also encourage you to consult with your Academic Advisor who will help you outline academic priorities and decide the best time to study abroad. Consider the questions below during the decision-making process.
Eligibility
Students who wish to study abroad must meet the following requirements:
Have at least a 2.5 GPA (some programs do require a higher GPA, and some instructors are able to approve participation with a lower GPA).
Be at least sophomore standing when you go abroad on most programs (some faculty-led programs are open to freshmen).
Be in good standing with the university.
Have a sense of adventure!!
Why do I want to study abroad?

Why do I want to do this?
Students have a variety of goals and motivations for studying abroad. Some common ones include: learning about the world, growing as a person, having an adventure, studying a particular topic in depth, completing an internship, practicing a language, or simply seeing what the fuss is all about. Take time to reflect on your own hopes and dreams as they will help guide your decisions.
Do I currently meet the requirements to study abroad? Am I prepared mentally, physically, and academically for such an experience?
The general eligibility requirements apply to most programs, but be aware that some programs have stricter requirements for year in school and GPA, and/or might not be open to all majors.

If you aren't ready to study overseas currently, it's never too early to start planning and preparing. Study Abroad Services is here to help you determine the time and place that would work best for you.
Do I have specific needs or requirements?
Consider these questions:

Does my major have a study abroad requirement?
Are there classes I can take that fulfill major, minor, or general education requirements?
How do my personal needs or interests impact program selection decisions?


TIP! For more information, see Diversity Resources.

Where do I want to go?

Where in the world do I want to go?
Sometimes a student's major or minor necessitates studying in a particular location. In most cases, however, students have flexibility and base final selection decisions on a variety of factors.
What are the most popular destinations for NDSU students who study abroad?
Europe is by far the most popular region followed by Asia and Central America. Although destinations, like fashion, can be trendy, places such as Ireland, the U.K., Spain, Australia, and New Zealand remain consistently popular.

TIP! For all the NDSU statistics, see Data.
Do I need to have studied a foreign language?
No. In fact, most students enroll in courses taught in English, regardless of where they're studying. You are not limited to countries where English is the official language. However, we do encourage students to take advantage of opportunities to study a new language or to continue with a language they've previously studied. It's a fun and rewarding way to connect more deeply with the local culture.

If you are interested in studying a foreign language, you can typically enroll in beginner, intermediate, or advanced classes. You can also opt to take academic courses taught in a second language. You'll be surprised at how quickly your language skills will flourish when you're using them every day.

TIP! Use the "Language of Instruction" function of the program search to find programs in your target language.
Are there options to study in other states?
The National Student Exchange offers over 150 options for studying in the U.S., Canada, and several U.S. territories. Some students who love exploring new places, opt to study abroad and in a different state during their time at NDSU.
Have I explored all of the study abroad possibilities - even places I never considered previously?
There are some amazing and unexpected opportunities out there. Be sure to take time to review all of your options. There's no need to rush a final decision.


When do I want to go?

When can I study abroad?
To be eligible to study abroad for a semester or a year, students must have studied at NDSU for a minimum of two semesters, and have attained at least sophomore status. There are some shorter term faculty-led programs, however, that are open to first-year students. These programs typically run during winter, spring, and summer breaks.
When would be the best time for me to study abroad?
There is no true "best time" to study abroad because it all depends on each student's goals and situation. Some prefer to study abroad as early as possible and complete generals overseas while others wait until all of their coursework is finished before opting for hands-on experiences such as internships, student teaching, or practicums. Meet with your academic advisor to help determine what the best time to go abroad would be for you.
What are the benefits of longer and shorter term programs?
Semester and year-long programs will give you the chance to know a place at a deeper level, make lifelong friends, and better understand cultural perspectives. These longer programs will also provide opportunities to see and do more as you'll have time to explore surrounding areas on weekends and holidays.

Shorter programs usually fit in well with course requirements at NDSU. They are typically more narrowly focused experiences within a specific academic framework.

TIP! It's common for students who participate in shorter term study abroad programs to come back home wishing they could have stayed longer.
Do I want to travel/work/volunteer before or after the program dates?
If you are planning to supplement your study abroad experience with personal travel, overseas employment, or participation in a volunteer project, the term you select will be especially important. Studying abroad spring semester, for example, would enable you to continue an overseas experience during the summer. On the other hand, studying abroad fall semester or during winter or spring break could limit you as classes at NDSU would typically pick up fairly quickly after the completion of your program.

What are my options?

There are 4 types of programs available through NDSU, giving you a wide variety of options. The program type has a significant effect on both your time abroad and the financial commitment later. Below is an overview of the types of programs available for NDSU students; a full breakdown of costs and payment logistics for each type is located on the

Program Costs page

.

EXCHANGE PROGRAMS . . . low-cost, immersive, independent, university-based
More than 300 options through partner universities, ISEP, and NSE offer the chance to immerse yourself as a student at a host university abroad or in the US while paying NDSU tuition and fees. Experience what it's like to be a student at a local university for a semester, year, or summer. For a list of these options, see Exchange Programs.

Partner Exchange

NDSU works with partner exchange universities all over the world. When you study abroad at a partner exchange, it means a local student will be able to study at NDSU in the future. The application process for these programs is straight-forward, and for most programs if you meet the minimum requirements for GPA and are in good standing with NDSU you just need to complete the application to be approved to take part.

Costs: Students on exchange pay their regular tuition and fees to NDSU, and are responsible for the costs of airfare, housing and other expenses while abroad. Housing is typically arranged through the host university abroad and students pay their room and board costs. This means that the cost of room and board on an NDSU exchange program varies by location.

Pros: Authentic and immersive, affordable, a non-competitive application, most only require a 2.5 GPA
Cons: Limited options, room and board vary by location (though some locations are less expensive than at NDSU)

ISEP Exchange

NDSU is a member of the International Student Exchange Program (ISEP) network, which includes more than 150 universities abroad. Placement for an ISEP Exchange programs is a competitive process, with some programs offering high placement rates and others in popular locations (Australia and England especially) being very competitive for placement. On an ISEP application students have the opportunity to list multiple program options in order of preference. You can find detailed information on the chance of placement on the ISEP homepage for each program.

Costs: Students pay their regular NDSU tuition and fees, as well as a Program Cost that covers room and board based on the NDSU housing and meal plan rate. This means that the cost of room and board for any ISEP exchange program is the same, regardless of location. Other costs, such as airfare and personal expenses are the responsibility of the student.

Pros: Authentic and immersive, many options around the world, affordable, cost of room and board the same regardless of location
Cons: Competitive application process, requires flexibility on location

NSE Exchange

The National Student Exchange (NSE) is a premier network of 160 colleges and universities throughout the United States, Canada, and U.S. Territories of Puerto Rico, Guam, and the Virgin Islands. NSE campuses range in enrollment from 600 to more than 50,000 students.

Costs: Students on exchange pay their regular tuition and fees to NDSU, and housing is arranged through the host university at the local cost. This means that the cost of room and board on an NSE exchange program varies by location. Students on exchange are responsible for the costs of airfare/travel, housing and other expenses while taking part.

Pros: Locations in the US and Canada, ultra low-cost options
Cons: Competitive application process, requires flexibility on location, no summer programs available

DIRECT PROGRAMS . . .

popular locations, immersive, independent, university-based

Attend a local university in popular locations like Australia, New Zealand, or Ireland and pay their costs instead of NDSU tuition. For a list of these options, see Direct Programs.
Direct
Students taking part in a Direct program typically are taking classes at the university as an international student and have an opportunity to get to know local students well in their day to day life. Direct programs are often located in popular English-speaking locations, but may offer the opportunity to learn or practice a language as well. The application process for these programs is straight-forward as long as you meet the minimum requirements.

Costs: Students attending a Direct program will have NDSU tuition waived as they will be paying the host university's tuition. A small amount of NDSU fees will be charged for registration purposes. Students are responsible for room, meals, airfare and personal spending money.

Pros: Popular locations, authentic and immersive, non-competitive application process
Cons: Mid-cost programs due to the cost of living in popular locations
AFFILIATE PROGRAMS . . . varied, supportive, center-based, pre-arranged excursions
NDSU works with third party affiliate providers in order to offer students an even wider range of study abroad options. Choose from approximately 600 programs all over the world, including volunteering, internship, research, and student teaching options. For a list of these options, see Affiliate Programs.
Affiliate
Affiliate providers offer approximately 600 programs options, making for a significant diversity of options. Many programs have courses designed specifically for international students, while other programs offer the opportunity to take courses with locals (similar to exchange and direct). Affiliate programs may also offer opportunities for local engagement with built-in excursions, internships, or volunteering.

Costs: When taking part in an Affiliate Program, NDSU tuition is waived as students will pay the affiliate provider's program fee. A small amount of NDSU fees will be charged for registration purposes. Most providers include costs such as tuition, room, meals, health insurance, excursions, etc. in the program fee. Each provider is different, so please be sure to research exactly what your program fee includes.

Pros: Popular locations, many options, most are non-competitive applications
Cons: Mid- to high-costs especially in popular locations, some programs may have limited interaction with local students
NDSU GLOBAL PROGRAMS . . . intense, directed, group, travel-based
Travel with other NDSU students to explore a class topic together during one of these intense and directed faculty-led programs or participate in an NDSU internship abroad while paying NDSU tuition and your travel costs. With courses overseen and taught by NDSU faculty, these programs offer the chance to study a topic in context. For a list of these options, see NDSU Global Programs.

Global Seminar (faculty-led)

Global Seminars are led by an NDSU instructor who is taking a group of NDSU students abroad for a timeframe that could be as short as a week or as long as a semester. While on the program, students take NDSU classes, making the process for planning how to use courses even easier. Although in some cases students may be less integrated in the local culture, the educational experience is cohesive and immersive.

Costs: Students taking part in a Global Seminar pay their regular NDSU tuition and fees. Students will also pay a program fee which often--but not always--includes costs such as room, board, in country travel, health insurance and airfare. Other costs, such as personal expenses, are the responsibility of the student. A budget is available for each program that outlines what is included.

Pros: Popular locations, NDSU courses
Cons: Often mid- to high-cost programs due to extensive travel, some programs may have more limited interactions with locals

Internship

NDSU is offering a unique opportunity to earn NDSU internship credits in Ireland. Ireland is the gateway to Europe, recognized globally for its leadership and expertise in a number of industries, most of which are niche areas specific to Ireland. All placements are designed to adapt and meet the academic and institutional requirements of NDSU, in addition to the professional and academic goals of each participant.

Costs: NDSU Global Internship participants pay the same tuition and fees as the term at NDSU and a program cost that includes homestay accommodation, some meals, in-country travel, health insurance. Other costs, such as airfare and personal expenses, are the responsibility of the student.

Pros: Popular locations, NDSU course
Cons: Limited to internship option

Are there other questions I should ask?

Academic Questions

Are there classes offered in my major/minor?
Are there interesting classes outside my major/minor?
Is it an accredited university that issues transcripts?
Are classes primarily with foreign, native or other American students?
Is there an orientation session?

Cost Questions

Application fees Are there additional application fees that would apply for your program?
Living expenses The cost of living can vary significantly from country to country. Even if the tuition cost is inexpensive, a high cost of living can make a particular program more expensive for participants. The Lloyds Expat Tool has some information about the most expensive cities in the world.
Travel expenses What are the costs for airline tickets to your particular country? If you want to travel on weekends and during breaks, how expensive will travel from this country be? Are excursions included?
Other program expenses Are there extra expenses for your program, such as housing deposits or course fees for certain classes?
Visa costs Consider also the cost of applying for the visa needed for your country. Some countries require that you travel to another city such as Chicago or New York in order to apply for a visa in person.
Scholarships/financial aid Are there additional scholarships available for your program, country, or subject of study? Does the type of program affect your financial aid eligibility because it is non-credit bearing or some other factor.

Housing Questions

Do I prefer housing with a host families, dorms, apartments, or some other option?
How are meals arranged? Meal plan or self-catered - or a combination of the two options?
How close to my classes are the housing options? How would I commute (walking, biking, and public transportation are all common abroad)?
When do I need to apply for housing for this particular program?
Are things like bedding and laundry included?
Return to Top